"On a dark desert highway, cool wind in my hair
Warm smell of colitas, rising up through the air
Up ahead in the distance, I saw a shimmering light
My head grew heavy and my sight grew dim
I had to stop for the night" ~ The Eagles
"Some of the wilder interpretations of that song have been amazing. It was really about the excesses of American culture and certain girls we knew. But it was also about the uneasy balance between art and commerce.
"It's a song about the dark underbelly of the American Dream, and about excess in America which was something we knew about." ~ Don Henly
Break out the pink champagne and bring your pretty boys along as the Dusk 2 Dawn Blog Train offers up our take this classic Eagles tune. It's the last blast of summer, the chance to get away, and to enjoy all the finer things in life (which none of us can afford).
We look forward to having y'all as a part of our train!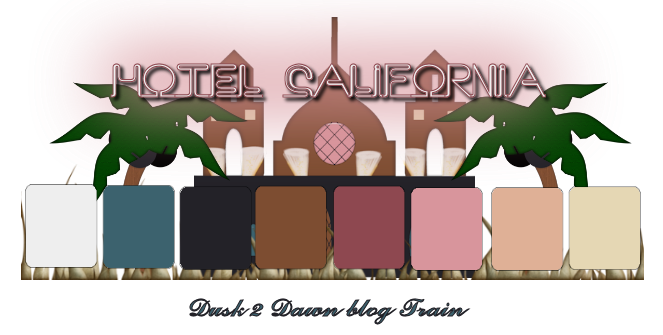 Hex values: #eeeeee, #3c626e, #232228, #7d4d31, #8e4850, #d8959c, #dfb096 and #e5d7b4
Deadline to sign up: August 20th
Previews due in Yahoo photo album: August 23rd
Train Departs: August 25th
Link to join can be found on right side of blog toward top or just click
HERE
.
Nette and I figured summer had been done to death (although this is a summery palette) and we wanted to do something a little different with the train, so we hope you will enjoy our choice for the August theme!